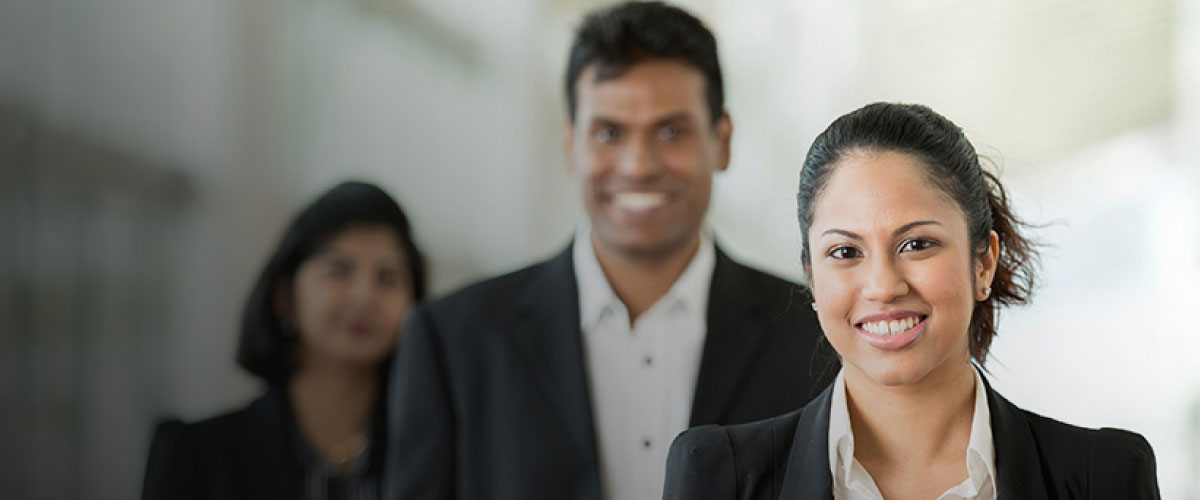 DFCC Bank recognized at the Global Karlsruhe Sustainable Finance Awards in Germany
August 19, 2019
DFCC Bank, one of Sri Lanka's fully-fledged commercial banks in Sri Lanka, was recently recognized at the Global Sustainable Finance Awards 2019 in Karlsruhe, Germany. Bagging a Certificate of Merit for Outstanding Sustainable Project Financing for the 7th consecutive year, DFCC Bank was acknowledged for its effort in "Financing Municipal Solid Waste to Electricity Project", further demonstrating the bank's sustainable corporate strategy.
Representing DFCC Bank, Vice President Branch Credit Management Mr. D.M.P SooriyaBandara – received the merit certificate and he delivered a presentation on "Financing for Sustainable Development in Sri Lanka" at the sustainability conference. Pioneering in development banking in Sri Lanka, the presentation by SooriyaBandara displayed DFCC Bank's focus on SME/MSMEs along with its strategy to embed sustainability in the corporate philosophy and decision making at DFCC. The presentation also included DFCC Bank's contribution to achieving Sustainable Development Goals, further demonstrating the successful incorporation of economic, social and environmental stability in their operations.
"We at DFCC are honoured to have received this prestigious award for the 7th successive year. This accolade is a reflection of our corporate values to uplift the community and encourage ethics and sustainability amongst Sri Lankans", stated Lakshman Silva – CEO DFCC Bank. He further commented, "The Global Sustainability Finance Conference saw the participation  of over 100 members and relevant stake holders of the banking and finance industries from all over the world; including C-level executives, CEOs and Senior Executives of leading global financial institutions, government officials, policymakers and regulators. Being noticed on a global platform of this scale and calibre inspires us to continue doing our best for sustainable financing in Sri Lanka".
The Karlsruhe Sustainable Finance Award honours financial institutions that have made significant contributions to the field of sustainable finance. Bagging an award for the 7th consecutive year, DFCC has lived up to its name as the "Bank for Everyone", focusing on the development, sustainability and inclusivity of the nation and its people.
About DFCC Bank
DFCC Bank PLC is a fully fledged commercial bank offering the full gamut of commercial and development banking services. The Chartered Institute of Management Accountants (CIMA) and the International Chamber of Commerce of Sri Lanka (ICCSL) recognized DFCC Bank as one of ten "most admired companies" in Sri Lanka for 2018. The Bank was also ranked No 14 in Business Today's list of Top 30 businesses in Sri Lanka and was placed in the 25th position in Brand Finance Top 100 Most Valuable Brands, 2019. DFCC Bank is rated AA- (lka) by Fitch Ratings Lanka Limited.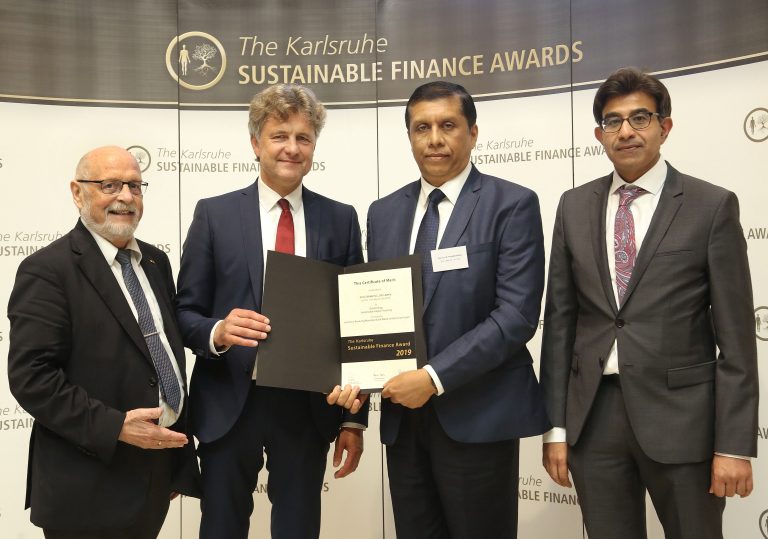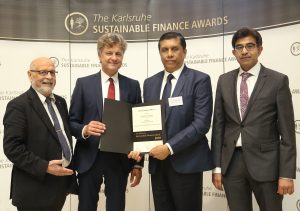 L-R Mr. Tom Hoyem Member of the City Council of Karlsruche & Former Cabinet Minister of the Kingdom of Denmark, Dr.Frank Mentrup, Lord mayor of Karlsruche, Mr. D.M.P Sooriya Bandara Vice President Branch Credit Management DFCC Bank, Mr.Arshad Rab, CEO European Organization for Sustainable Development, Germany.