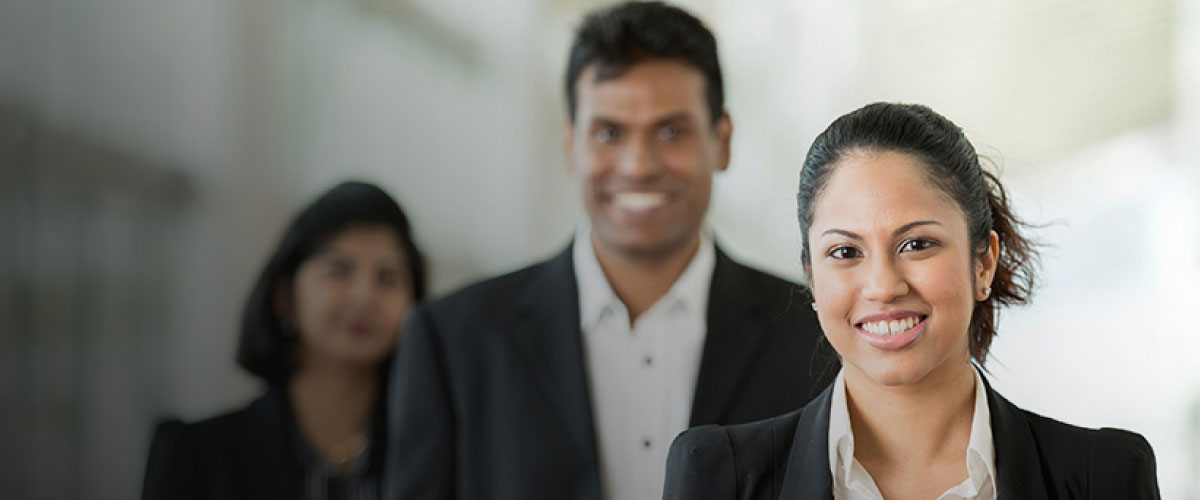 DFCC forges ahead with a team of diverse,multi-disciplined and dedicated staff
October 14, 2014

Interview with Sonali Jayasinghe on DFCC's competitive people advantage
Sonali Jayasinghe – Vice President, Group Human Resources, DFCC Bank
Established in 1956, DFCC Bank has for nearly 60 years played a catalytic role in the economic development of the country. Over this period, the Bank has helped nurture many aspiring entrepreneurs and businesses, providing financial and advisory services particularly during their early and risky start-up stages. Today many of them are leading players in their respective sectors.
During its journey, DFCC has also earned a reputation in terms of the quality of its people, having molded some of the best banking professionals in the country. The Group currently has an island wide footprint, served by a team of diverse, multi-disciplined and dedicated staff of over 1300.
In this interview, Sonali Jayasinghe, the Vice President, Group Human Resources for the DFCC Group, gives insight into how DFCC has been able to create a competitive people advantage and what it is like to work at DFCC.
1. DFCC Bank has a strong reputation for possessing a highly skilled and professional work force. What does DFCC do to create a competitive people advantage?
Recruitment is a core area of focus for us and every effort is made to ensure a stringent, transparent and consistent recruitment process. Recruiting the right individuals is really important to us, and it's the fit of culture and values that we do not compromise on, therefore ensuring that immediate resourcing needs in a team don't override the need to maintain a high bar and value-base for DFCC.
In terms of what we look for, we look for people who are not only creative and have the right set of technical skills and experience, but who demonstrate other attributes such as confidence, commitment, personality and drive. Our executive staff possess at the very least, a degree or professional qualification and many of them possess multi disciplinary qualifications. Further, we recruit our team from a wide variety of industries and disciplines which results in having a very diverse and extensive knowledge base within the Bank.
Upon finding the 'right fit' we continue to help them to grow by providing structured and non-structured learning opportunities, keeping them focused by providing a clear sense of purpose and a great working environment. Employee welfare is of paramount importance and focusing on these aspects we have been able to build a flexible and resilient organization that can respond to demands imposed by a competitive environment.
2. What do you think are some of the best reasons to work for DFCC Bank?
Well there are many benefits of working for DFCC. We encourage openness and flexibility and we encourage our employees to be ambitious and take on more. One of our strengths is that we have extensive knowledge in various industries, and this knowledge is freely available to anyone who is eager to learn. So we provide them with opportunities to move into different areas of the business, and the opportunities are many.
In terms of learning and development, the Group's commitment to nurture inherent talent and maximize individual potential of employees ensures that the Bank invests substantially in development of staff. Training is provided both locally and internationally with programs designed to suit the competency requirement of both the individuals and the Bank.
In addition to work-related benefits, employees also enjoy themselves on a social level. The Group actively promotes participation in sports and organizes other extra-curricular activities through several clubs that are run by employees themselves. Employee wellness is important to us and as such attractive schemes such as memberships in gyms and social clubs are made available. Awareness programs on wellness are also conducted frequently to educate staff on subjects such as nutrition, ergonomics, first aid, stress management, communicable diseases etc. We also put out a weekly newsletter focused on informing and engaging our employees on health and safety issues.
3. How would you describe DFCC's culture?
We believe that happy employees lead to happy customers. Our unified aim is to provide our customers with an experience that supersedes the expected standard level of service and to achieve this it is important that our employees are actively engaged and committed.
In this context, ours is a culture that values professionalism, teamwork, openness, diversity, respect for individual values and recognition. Whilst high performance standards are expected, employees are encouraged and supported to maintain a healthy work-life balance. Transparency and equitability are also of great importance and we continuously strive to improve HR processes and procedures that re-enforce these values.
4. The DFCC Group Management Training Program is much sought after by young professionals. Can you say more about that?
Yes, in terms of our Management Trainees we look for people with potential who will contribute to DFCC's growth and become the next generation of leaders. We search for diversity of mind and ideas which are an asset for our development; people who show adaptability when faced with changing trends in the business environments and different cultures. In short we look for agile people.
Keeping this in mind, our Management Trainees are selected from varying educational, cultural, regional, economic and social backgrounds. The program itself is designed to provide selected candidates with a challenging and broad learning experience with classroom sessions, on-the-job training, job rotations and continuous assessments. They are trained for performing executive functions and on conclusion of the training period, are confirmed in service subsequent to ascertaining suitability for absorption into the regular cadre. Upon joining the Bank, the trainees also become members of the DFCC REDS which is a club set up to assist new employees adjust to the workplace and its culture.
5. Can you elaborate more on DFCC REDS?
The DFCC REDS was introduced in 2011, giving young officers the opportunity to bond with each other and acquire the necessary muscle as a collective to push forward their goals and aspirations. As REDS they have the opportunity to participate in social events, CSR projects and interactive learning initiatives. The club is managed independently by our young officers with its primary mandate being to assist new employees adjust better to the Bank and its values.
6. How does performance management work at DFCC?
A formal performance management framework is in place and has been communicated to all staff. The approaches adopted across different groups within the business could differ, with the approach generally determined by the nature of the staff group or function in question. We assess not just what people have achieved but also how they have achieved it, in doing so encouraging sustainable performance.
Thus, key performance targets assigned to the Bank are cascaded down to departments/ branches and then to individuals. In discussion with employees, scorecards are prepared and signed off by both the employee and the supervisor. Performance against assigned goals is regularly reviewed, with formal reviews being conducted twice a year. The annual increments and bonuses are issued based on the meeting of assigned goals as well as based on the overall performance of the Bank and the employee's respective department/branch. Human Resources work closely with departments/ branches to ensure consistency of approach and measurement across business to the extent possible.
7. What is your approach to reward and recognition?
At DFCC we believe in differentiating rewards based on performance and potential. Therefore, employees rewarded based on their specific quarterly or annual goals which can be updated mid-year or at the end of the year. The goals help determine the bonus rewards and other incentives.
In addition, we strongly believe in our company values and recently implemented a scheme to recognize employees who have demonstrated these values as nominated by their peers. This is held on a quarterly basis where recognition is given in the presence of Directors of the Board and CEOs of DFCC and DVB. Additionally awards are also given, recognizing individuals and teams that have performed exceptionally during a particular year.
8. The topics Corporate Social Responsibility and Sustainability are growing in importance. How do you ensure that CSR policies are bought into by employees?
Embedding corporate responsibility into a business is about making it an integrated part of the culture of the organization. Thus 'Caring for the Society and the Environment' is one of our core values and we encourage our employees to volunteer and support important causes.
We empower our supervisors to select and implement regional projects that best align the needs of the community and interests of the Bank. From our support to educational initiatives and beyond, we involve our employees in identifying projects as well as provide numerous opportunities for them to actively contribute in the implementation of such projects, so their buy-in comes naturally. In addition we also offer opportunities for employees to donate to various causes and use our facilities for charity events where possible.
9. What people management challenges do you envisage in the near future and how would DFCC address these challenges?
At a high level it would be the ability to locate, attract and engage new talent at the right time along with providing development and advancement opportunities for current employees.
In addressing these challenges we would adopt a future focused predictive stance. In managing talent, our focus will be on supporting every individual to give of their best to the company, and we have several on-going programs focused on developing new and existing talent and providing avenues for career advancement. Focused performance management, competency enhancement and leadership development initiatives will be key.
Alongside this we will continue to refine our strategy to ensure that we continue to attract the highest level of talent demonstrating ambition, energy and passion.
10. What advice would you offer those that want to join DFCC?
In short it would be, 'Have an inquiring mind, a thirst for knowledge and learning and be proactive, the rest we will provide!