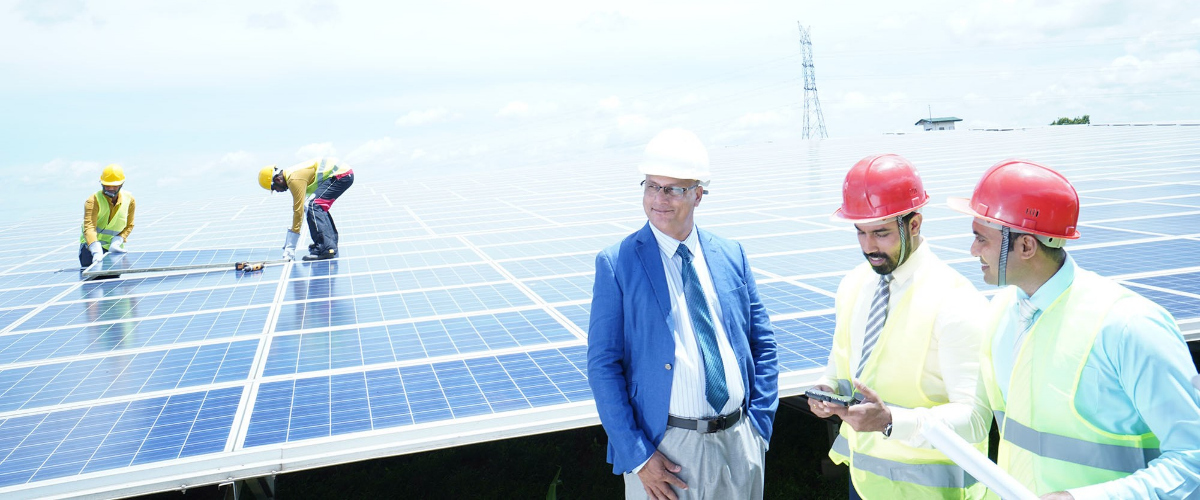 Our six cross cutting themes – The 6 Es
Education
Education is one of the 6 focused areas that enable skills building for economic resilience. DFCC Bank PLC firmly believes that educating children and youth has lasting positive effects on the entire nation, and the Bank has been active in uplifting the standards of education in the country, equipping the next generation of leaders and influencers.
Given below are brief descriptions of some of the key initiatives under "Education".
The "Samata English" is a program aimed at enhancing the English competency of youth aged 16-22, grooming them to confidently enter the workforce. The Samata English Program was started in 2017 as a pilot in Gampaha and Kalutara and was extended to Kandy, Kurunegala and Galle in 2018 and Polonnaruwa, Ampara, Jaffna and Rathnapura in 2019, benefitting approximately 200 youth in these areas. Due to the Covid-19 Pandemic, the Bank is conducting this as an online program in 2021 for youth in Anuradhapura Vavuniya and Badulla districts. Training of soft-skills, including leadership ability, time management, presentation and writing, and how to face an interview were also added to the 2021 program, as these skills are invaluable in today's job market and also ensure that youth excel in their careers. Students are also provided with a data allowance to motivate them to attend the online sessions. DFCC Bank has partnered with Gateway Language Institute to conduct the educational sessions of Samata English on behalf of the Bank. Upon successful completion of the program, the top achievers across the regions are offered the opportunity to join the Bank as interns, creating opportunities for them to apply what they have learnt, gain work experience and develop their skills.
In 2020, DFCC Bank teamed up with Caritas Sri Lanka-SEDEC to launch a scholarship program to provide financial assistance targeted at youth of vulnerable low-income families to continue their education without interruption. This scholarship program will be for duration of five years and have a minimum of 100 recipients at a given time.
The Bank is also assisting the Lankadhara Society, a transit home in Colombo 6 with nearly 50 underprivileged girls between the ages of 5 and 18 on their educational needs. These include donation of two laptops in January 2021 to enable the students to continue their studies through online learning, and conducting of an online English course through Gateway Institute to 18 O/L and A/L students from July 2021 under the Scholarship scheme with Caritas Sri Lanka.
Elderly
Elderly is one of the 6 focused areas of the DFCC Bank Sustainability Strategy that is aimed at taking care of the growing elderly population by providing them with the required assistance to enjoy the prime time of their lives.
The elderly population is an important segment in any country with a wealth of knowledge, expertise, and leadership roles they play in organizations. Therefore, it has become essential to look into aspects to make them more inclusive in society and to become a socially responsible entity that cares about this segment of the community.
Furthermore, the Bank intends to make meaningful relationships with senior citizens through the provision of solutions to meet their financial and other requirements. The Bank at present provides customized Savings Accounts and Fixed Deposits for senior citizens aged over 60 years.
Emergency Relief
Emergency Relief is one of the 6 focused areas of DFCC Bank Sustainability Strategy that is aimed at providing relief to those who get affected due to natural disasters and at times of emergencies.
DFCC Bank came forward to assist those who were in need at times of various disasters including flood, drought, earthquakes and the COVID-19 pandemic.
In May and June 2021, the 'Digital Dansala' initiative powered by the DFCC Virtual Wallet provided dry rations to those who were affected by the pandemic. Donations were collected from both bank customers and staff with a matching contribution by the Bank, amounting to Rs 1.7m. The Bank was able to provide dry rations to communities located in areas that were hindered by travel restrictions and the pandemic from the donations collected through its nine regional offices spread across the country.
Entrepreneurship
Entrepreneurship is one of the 6 focused areas of DFCC Bank Sustainability Strategy that empower entrepreneurs to achieve economic resilience through financial support and various programs and partnerships. DFCC Bank has been a pioneer in lending and supporting many trailblazing entrepreneurs who have now become established businesses.
The Bank's products and services are customized to meet the requirements of entrepreneurs, such as concessionary loan schemes, term loans, working capital loans, and leases. Some of the schemes are focused on specific sectors such as 'DFCC Sahanaya' for export-related SMEs and 'DFCC Krushibala' for Agri-related businesses.
DFCC Bank set up an "MSME Unit" in September 2016 to support and develop small enterprises. This Unit exclusively deals with Small Business Enterprises (SBEs) that eventually become SMEs and fulfills all their financing needs.
The Bank not only provides financial assistance but also helps to improve the skills of entrepreneurs through programs such as 'DFCC Sahaya Hamuwa', 'DFCC Vyaapara Sahaya', and 'DFCC Vyaapara Athwela' Online program. DFCC has partnered with CNCI (Ceylon National Chamber of Industries) to reward entrepreneurs and industrialists who have excelled in their respective areas.
DFCC Bank has also set up a Task Force on Sustainable and Social Entrepreneurs to define and assess the current baseline and recommend targets for 2025 & 2030.
This Task Force is now functioning as a Sub-Committee and reports to the Executive Sustainability Management Committee (ESMC) and will recommend and follow-up on measuring and reporting.
Please also refer to "Success stories of women entrepreneurs funded by DFCC Bank" under Gender Diversity & Inclusion at DFCC Bank
Environment
Environment is one of the 6 focused areas of DFCC Bank Sustainability Strategy that strongly advocates protecting the environment and strives to minimize negative impacts.
While our core business has a minimal direct impact on the environment, as a financial services provider we are in a unique position to influence and encourage our customers, employees, service providers and the communities to adopt environmentally responsible practices. The Bank has conducted many activities and projects to protect the environment.
An island-wide tree planting campaign was launched in 2017 with commemorations of staff birthdays. More than 25,000 trees have been planted by the end of 2020 in different locations in Sri Lanka. All staff and their families were invited for these campaigns. Special invitations were sent to staff celebrating their birthdays and E-certificates with Google Map links of the locations of the tree planting sites were sent to them after the event.
All staff was provided with reusable bags in 2017. In June 2019, the Bank gave 10,000 and 2,000 reusable bags to customers and staff, respectively, to commemorate the World Environment Day. It is estimated that this initiative will reduce usage of plastic bags by approximately 5 million over a period of two years.
The Bank regularly conducts e-Waste Management initiatives since 2017. This encourages staff to bring e-waste, helping to ease the issue of garbage disposal. This waste is collected by an approved e-waste recycling company. "Plastic Recycling Days" are also organized by the Sustainability Unit on a regular basis since 2018.
Regular Beach Cleanups were also held with the participation of a large number of DFCC Staff and their families.
Exercise
Exercise is one of the 6 focused areas of DFCC Bank Sustainability Strategy that is aimed at building resilient communities. Furthermore, achieving Sustainable work lifestyles by 2030 is one of DFCC's goals under the Sustainability Strategy.
The Bank seeks to advance sustainable workplaces and lifestyles by inculcating sustainable workplace practices, as well as lifestyles for clients and staff in general. This includes a range of elements from promoting diversity and inclusivity, to productivity-oriented wellness and sustainable consumption and lifestyle practices.
A wellness committee, OMMM, was set-up to spearhead the above. Some of the initiatives that have been carried out / initiated by this committee include, Bike to work, Yoga, Zumba, Step Challenge, sessions on Mindfulness, introduction of a wellness calendar, etc. Events were also held to promote cycling amongst the customers of the Bank.