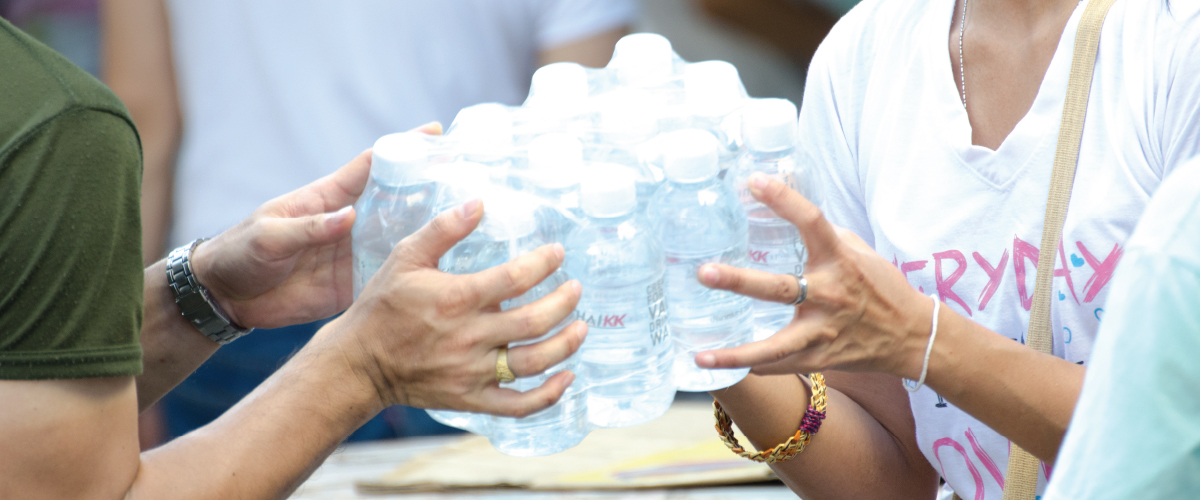 Emergency Relief
DFCC Bank PLC has been actively engaged in assisting in emergency relief efforts when natural disasters occur through financial donations and provision of voluntary services. In response to the rising rate of natural disasters, DFCC Bank steps up to assist those affected by providing essential items and introducing concessionary products and services.
HELPING HANDS TO SCHOOLS AFFECTED BY FLOODS
After identifying the needs of six schools affected by floods, DFCC Bank provided shoe vouchers, schools bags, uniforms and exercise books to 360 students at Mihindu Vidyalaya in Ratnapura and shoe vouchers to 181 students at Gamini Central College, Kalawana During the month of June.
The third school that was benefited by DFCC Bank's assistance towards flood relief was Lankagama Junior Model School in Lankagma, off Deniyaya. This school has only 162 students from Grades 1-13 and is situated in a very remote area. Almost all the students are from under-privileged families. It takes more than 2 hours from Deniyaya to reach the school by a vehicle, as the road leading to Lankagama is in a very dilapidated state. DFCC Bank provided shoe vouchers, schools bags and uniforms to all 162 students of Lankagama Junior Model School on 5th July.
The Bank also donated duplo machines to Matara Primary Model School and Weragampitiya Olcott Model School, as well as 300 chairs to Diyagama Vidyalaya in Kalutara.
Managers and staff of the respective branches participated at these handing over events.
SAHANAYA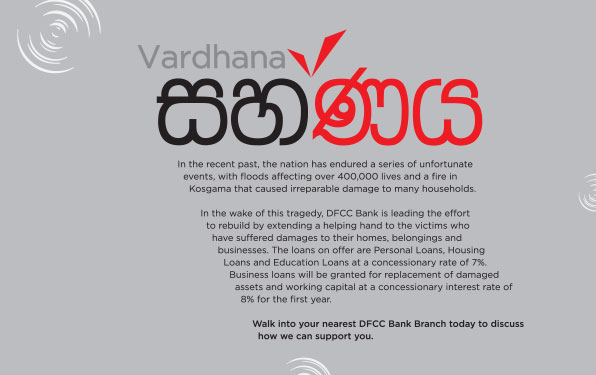 DFCC Bank introduces the 'Sahanaya' Loan Scheme to provide relief for flood victims and those affected by the fire in Kosgama. The loans offered include Personal, Housing, Education and Business Loans.
A concessionary interest rate of 7%
Personal Loans
Housing Loans
Education Loans
Personal, Housing and Education Loans at a reduced interest rate of 7% are available for individual salaried earners affected by the floods. Applicants can obtain loans of up to six months of their salary, which is repayable over a period of 36 months.
Business Loan
Business loans are available for affected businesses for the replacement of damaged assets and working capital at a reduced rate of 8% for the first year, made variable thereafter. The loan can be repaid over a period of five years.
Call us on 2350000 or visit your nearest DFCC Bank branch to discuss how we can support you.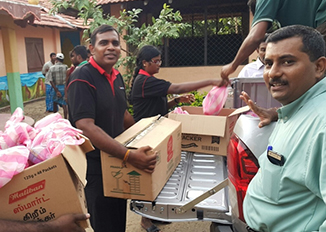 Northern Region's Flood Relief Initiative assists 100 Families in 2015
DFCC's team in the Northern Region led by the Regional Manager; Mr. SaravanapavanRaveendra provided assistance to families affected by floods in the Vatharavarai Village.
Northern Region's Flood Relief Initiative assists 100 Families in 2015

Led by the Regional Manager, DFCC's team in the Northern Region provided assistance to families affected by floods in the Vatharavaraivillage. The village was severely affected and many people were displaced due to the flash floods caused by heavy rain.
The team distributed packets of biscuits, as many of the families, especially children were without food. They also distributed mosquito coils and provided relief for about 100 families.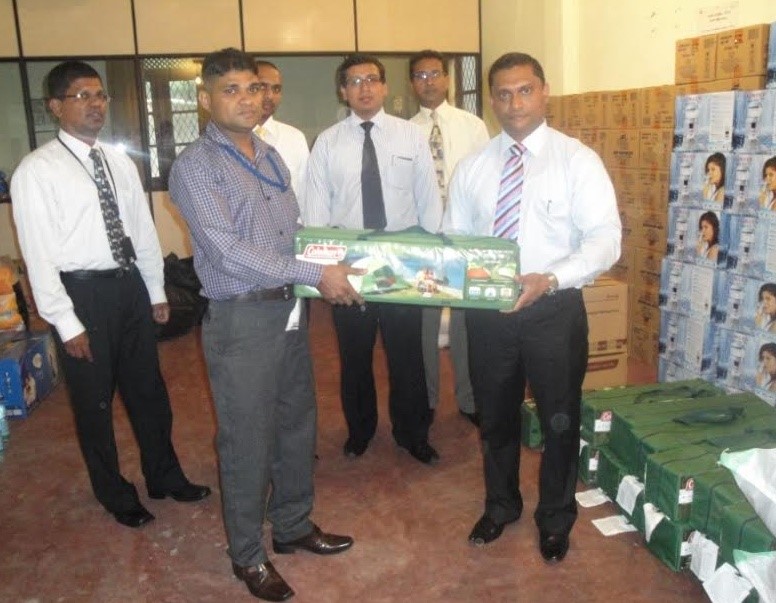 Nepal Disaster Relief – 2015
The staff of DFCC Bank contributed basic necessities to be sent to people affected by the Nepal Earthquake. The Bank has had a close relationship with Nepal on development of Renewable Energy and joined hands with the Sri Lanka Government who transported the relief goods to Nepal.
Drought Relief Efforts in North Central Region
The severe drought lasting almost nine months in 2014 affected an estimated 1.5 million Sri Lankans with around 700,000 people in need of basic food and livelihood requirements. Three villages in the Anuradhapura, Kaduruwela and Moneragala areas were identified in need of urgent help. Teams from the respective branches visited the villages and provided water tanks and dry rations to help approximately 1,000 families.
Koslanda Earth Slip Relief
DFCC Bank PLC initiated a relief programme to support the victims affected by the Koslandaearth slip. Through our Bandarawela branch, dry rations were handed over to the officials of the Poonagala refugee camp where approximately 2,000 refugees were given shelter.
DFCC Bank played an active role in the Sri Lanka Sustainable Banking Initiative (SBI) promoted by Sri Lanka Banks' Association (SLBA). DFCC Bank joined 17 other banks in Sri Lanka in November 2015 for signing up for 11 Sustainable Banking Principles for Sri Lanka under Phase I, which is funded by DEG of Germany, along with OeEB of Austria, Proparco of France and FMO of Netherlands. AVP – Sustainability of the Bank is a member of the Core Team, which was formed to implement these principles across all banks in Sri Lanka under Phase II.
DFCC Bank is committed to achieve Sustainable Development Goals (SDGs) of the United Nations, so as to build a more prosperous, equitable and sustainable world. In this regard, several SDGs, such as 'Quality education, Renewable energy, Good jobs & economic growth, Reduced inequalities, Sustainable cities & communities, Climate action and Life on land have been addressed through the above initiatives.